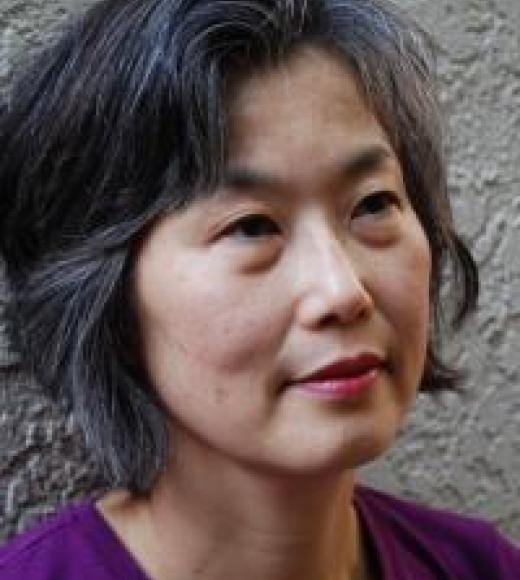 Position Title

Associate Professor of Japanese

Associate Professor of Comparative Literature

Undergraduate Faculty Advisor of Comparative Literature
Bio
EDUCATION AND DEGREE(S)
Ph.D., Japanese, Stanford University
M.A., Japanese, Stanford University
M.A., English/English Literature, University of Tokyo
M.Phil, Medieval and Renaissance Literature, University of Cambridge
RESEARCH INTEREST(S)
Modern Japanese literature
Modern Japanese film
Gender representation, identity, and sexuality in literature
The kimono
Early twentieth-century sexology discourse
Women's writing and feminism
Objects in literature
Law and literature
COURSE(S) TAUGHT
JPN 153: Love, Sexuality and the Family in Modern Japanese Literature
JPN 103: Japanese Literature in Translation: The Modern Period
JPN 105: Modern Japanese Literature: Hero and Antihero
COM 112: Japanese Cinema
COM 195: Senior Seminar
Modern Japanese Literature (Indiana University)
Modern Japanese Women Writers (Indiana University)
Japanese Popular Culture (Indiana University)
The "Other" in Japanese Literature and Film (Indiana University)
Introduction to Japanese Film (Indiana University)
Gender and Sexuality in Japanese Film (Indiana University)
Research Methods in Japanese Studies (Indiana University)
Readings in Modern Japanese Literature (Indiana University)
PROFILE
Before my arrival at UCD, I worked for many years at Indiana University in the Department of East Asian Languages and Cultures, and prior to that, at Dickinson College. I received my Ph.D. in Japanese with a minor in Comparative Literature from Stanford University. At UCD, I work in the Department of East Asian Languages and Cultures and the Department of Comparative Literature.
My research is primarily on modern Japanese literature but I also work on early twentieth-century sexology in Japan, the U.K. and the U.S. As a scholar I am particularly interested in how literature and history intersect, and I examine texts as part of a broader network of cultural discourses that produce and rework vital ideas within specific historical moments.
In my first book, Becoming Modern Women: Love and Female Identity in Prewar Japanese Literature and Culture, I examined fiction by women writers in conjunction with a range of non-fiction writing about love, such as love treatises and early feminist texts. Focusing on same-sex love, love marriage and maternal love—terms newly created in Japan during the early twentieth century—this book explores how modern female identity was imagined and constructed during the 1910s-30s.
In addition to research on various Japanese women writers, I have also written on representations of women in both canonical and popular literatures. My areas of interest in early sexology include same-sex sexuality, sex difference, chastity, concepts of gendered ailments, and the influence of Western sexology in Japan. In recent years, my research interests have expanded to include studies of kimono, objects in literature, and Japanese film.
SELECTED PUBLICATIONS
BOOK(S)
Becoming Modern Women: Love and Female Identity in Prewar Japanese Literature and Culture  (Stanford University Press, 2010)
EDITED VOLUME(S)
U.S.-Japan Women's Journal, Number 45, 2013. Special Issue: Women's Voices, Bodies and the Nation in 1930s-40s Wartime Literature.
ARTICLES AND ESSAYS (SELECTED)
"The Science of Sexual Difference: Ogura Seizaburō, Hiratsuka Raichō and the Intersection of Sexology and Feminism in Early Twentieth-Century Japan." Towards a Global History of Sexual Science. Ed. Veronika Fuechtner, Douglas E. Haynes, and Ryan M. Jones, 258-78. Oakland: University of California Press, 2018.
"Reading and Writing Material: Kōda Aya's Kimono and its Afterlife." Journal of Asian Studies, Volume 76, Number 2, May 2017: 333-61.
"The Translation of Edward Carpenter's The Intermediate Sex in Early Twentieth-Century Japan." Sexology and Translation: Cultural and Scientific Encounters Across the Modern World. Ed. Heike Bauer, 197-215. Philadelphia: Temple University Press, 2015.
"Fat, Disease and Health: Female Body and Nation in Okamoto Kanoko's 'Nikutai no shinkyoku.'" U.S.-Japan Women's Journal, Number 45, 2013: 33-49.
"The Husband's Chastity: Progress, Equality and Difference in 1930s Japan." Signs: Journal of Women in Culture and Society, Volume 38, Number 2, Winter 2013: 327-52.
"Shinju fujin, Newspapers and Celebrity in Taishō Japan." Japan Review, Number 24, 2012: 105-25.
"Writing Same-Sex Love: Sexology and Literary Representation in Yoshiya Nobuko's Early Fiction." The Journal of Asian Studies, Volume 65, Number 3, August 2006: 575-99.
"Consumption and Leisure: An Intratextual Reading of Hisao Jūran's Kyarako san." Proceedings of the Association for Japanese Literary Studies, Volume 7, 2006: 78-84.
"Progress and Love Marriage: Rereading Tanizaki Jun'ichiro's Chijin no ai." The Journal of Japanese Studies, Volume 31, Number 2, Summer 2005: 357-84.
"Becoming a Virgin: Female Growth and Sexuality in Yoshiya Nobuko's Yaneura no nishojo." Across Time and Genre: Reading and Writing Japanese Women's Texts. Ed. Janice Brown and Sonja Arntzen. Edmonton: University of Alberta, 2002: 52-56.
"Kindaiteki shutai tankyū: Josei jiko keisei shōsetsu to shite no Yaneura no nishojo[Searching for the Modern Subject: Two Virgins in the Attic as Female Bildungsroman]." Kotaba to sōzōryoku (Words and Imagination). Ed. Kaneko Yūji and Ōnishi Naoki. Tokyo: Kaibunsha, 2001: 198-214.
TRANSLATION
"The Unordered World." Translation of Okamoto Kanoko's "Konton Mibun." Manoa: A Pacific Journal of International Writing, Volume 8, Summer 1996: 158-71.
CURRENT PROJECTS
Currently, I am writing a book on the representations of kimono in Japanese literature and film (1930s-80s). In this project, I examine how this garment "speaks," producing meaning in text or image, while its own place and function in everyday Japanese life dramatically change over the course of the twentieth century.
HONORS AND AWARDS
Japan Foundation Japanese Studies Research (Long-Term) Fellowship (2019-20)

UC Davis Humanities Institute Faculty Research Fellowship (2017-18)
UC Davis Humanities Institute Summer Faculty Fellowship (2017)
Indiana University Institute for Advanced Study Individual Research Award (2015)
Indiana University Office of the Vice President for International Affairs Short-term Faculty Exchange Program (2015)
Indiana University College Arts and Humanities Institute Travel Grant (2014, 2011, 2009)
Florence Howe Award in foreign languages and literatures for feminist scholarship, sponsored by the Women's Caucus for the Modern Languages (MLA organization) (2013)
Indiana University New Frontiers in the Arts and Humanities Exploratory Travel Fellowship (2012)
"Becoming Modern Women" designated 2010 Choice Outstanding Academic Title (2011)
Association for Asian Studies Northeast Council Japan Studies Grant (2011, 2007)
Indiana University-Bloomington Summer Faculty Fellowship (2009)
Indiana University Trustees' Teaching Award (2008)